Stone of Mujo and Jura from Mostar
All who stroll by the popular seaside promenade known as Šetnica, located not far from Trpnj on the peninsula Peljesac in Croatia, have the opportunity to be reminded of all the misfortunes and tragedy of the previous war.
Namely, on one of the stone boulders by the promenade almost every year from 1976 to 1990 is written next to the names of the Mostar inhabitants Mujo and Jura, who spent summer vacations on the peninsula.
According to the inhabitants, these two lads, except for the year 1978, spent their vacations on Peljesac, where they signed their names each year on the stone.
These two friends from Mostar  stopped hanging out and vacationing together at the beginning of the war in SFRJ, and thus 1990 is the last year written on the stone, but their story lingers on as legend to their legacy.
In addition, the stone remains as a witness to all the misfortunes of the past war, and the fact that there was a time of living together without regard to first name, last name, nationality, or faith.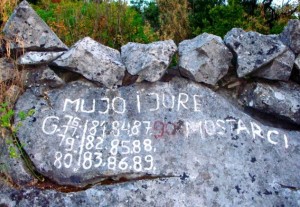 The preceding text is copyright of the author and/or translator and is licensed under a
Creative Commons Attribution-NonCommercial-NoDerivs 3.0 Unported License.